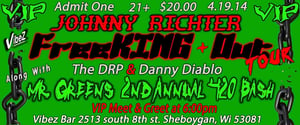 $

20.00 - On Sale
Mr. Green's 2nd Annual 420 Bash Featuring Johnny Richter and the FreeKING Out Tour -Tickets
Mr. Green's 2nd Annual 420 Bash! With the FreeKing Out Tour: Featuring: Johnny Richter (formerly of the Kottonmouth Kings), The DRP & Danny Diablo.
April 19th 7:00pm at My Place Bar and Grill 1515 New Jersey Ave. Sheboygan WI.
$20 - VIP Meet and Greet (Limit 50)(Includes Show)
Get your tickets now for the hottest 4/20 Show Wicked Wisco has ever seen!!